Manage your liquidity in a simple and easy way because we provide a quality, fast and always available service.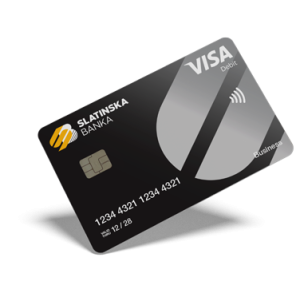 We know that time is precious, that's why we made it easier for you to open an account.
WHAT DO YOU HAVE BESIDES A BUSINESS ACCOUNT
Carrying out cash and non-cash transactions at favorable fees
Speed, security and accuracy when sending and receiving interbank payment transactions
Clients account reports on balance and turnover – the way you choose
Obtaining a loan on demand
Izdavanje Visa business debit kartice
Izdavanje Visa business credit kartice
Pogledaj koje su ti dodatne mogućnosti na raspolaganju uz poslovni račun.
Nacionalni platni promet
Non-cash payment includes:

Internal and external payments
Various options for submitting a payment order:
By submitting an order in the Bank's branches,
By submitting an order at FINA branches
By using IB Internet banking, 24 hours a day, 7 days a week
By using the Mobile application, 24 hours a day, 7 days a week

Cash payments can be made:

At the Bank's counters
Through the Bank's day-night vaults, 24 hours a day, 7 days a week
Through FINA
INTERNATIONAL PAYMENT TRANSACTIONS
Fast, safe and cheap service:
collections from abroad (inflows)
payments abroad (remittances)
documentary business (nostro and loro documentary letters of credit, collection of commodity documents, collection of bills of exchange, and other financial documents)
Internationa payments include the following businesses:
Documentary billing
Documentary letters of credit
Foreign currency exchange
Foreign exchange guarantees - nostro/loro
Other services related to international payments and foreign exchange operations
Terminski plan podnošenja naloga
SEPA PAYMENTS
For all questions and complaints related to card business, the contact phone number is 033 637 026 during working hours, for loss or theft of a card that occurs after working hours you must contact the EGCP network at 01 3078 699. The deadline for submitting complaints is 30 days from the date of the transaction by written notification of the current account owner